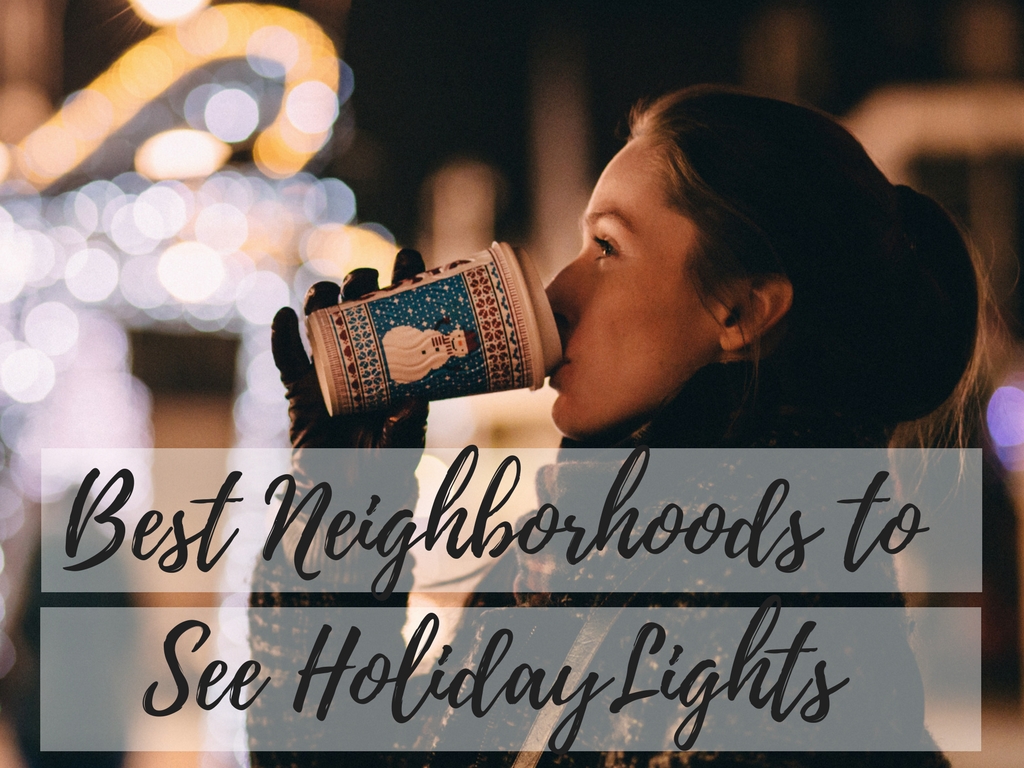 One of the things I love the most about Denver during the holiday season are the neighborhood lights! Whether they start in mid-September or wait until the last minute, Coloradans love decorating for the holidays. And Denver has some of the best displays to be found, and every year they seem to get more elaborate. We love to bundle the kids up, hot cocoa in hand, and head to our favorite neighborhoods for a fun evening of free entertainment. Here is where we love to go:
Milwaukee St, Congress Park
Denver, 80206
Park the car and take a few minutes to walk up and down the winter wonderland block just between 12th and 13th Ave in Congress Park. This one is admitedly my favorite because we can walk there, but I love the spirit of this street, where everyone conspires to have a piece of the holiday action represented. My personal favorite is the hot chili house- see if you can spot it.
Franklin and 8th Ave, Cheesman Park
Denver, CO 80218
Cheesman Park usually lights up pretty nicely around the holidays, so you'll have lots to ooh and ahh at in the neighborhood, but if you're wanting to slow the car or take a stroll, this block is exceptional. Make sure to check out the retro-holiday house, a veritable trip back in time. You can't miss this house, featuring a huge selection of plastic holiday decorations and lights from the last 70 years and filled with so many LED color-changing lights that you could stand there for hours just watching all of the twinkling lights change colors. If you love your holiday lights big, then this is one place that must be on your list.
Windsor Gardens, Alameda & Dayton St
Denver, CO 80247
This large over-55 community has been rocking the holiday lights for decades, and each year the residents out do themselves in their decorating contest. You can walk or slowly drive through the sprawling complex. If the night is nice and you want some exercise, walk the inner circle (approx 1 mile) to see the detailed lights up close and personal. You might even meet some of the neighbors!
S. Dexter Way and S. Fairfax Way
Centennial, CO 80121
Heading a little farther south, this area in Centennial has a huge holiday light celebration. Several houses go all out here, including one that boasts 15,000 lights and syncronizes all its lights to music. Every kind of decoration imaginable is on display. This house has also been known to offer live music the week leading up to Christmas, so you could even come to this one a few times!
W. Dakota Ave and S. Cole Court
Lakewood, CO 80228
This cozy Lakewood neighborhood is a great one for music lovers, as many of the houses around this block set their lights to music. One house even syncs its 25,000 lights to 192 channels of Christmas music, so tune your car radio to 97.7 and you can sing along with the changing lights! The neighbors may not love this, but we do! Check out displays from previous years on YouTube so you can see how worthwhile a pilgrimage will be to check this out!
Harvard Lane and Dahlia Street
Denver, CO 80222
This Denver neighborhood definitely has the holiday spirit, and the kids will love all the coloraful lights. One house near Harvard and Dahlia, however, takes Christmas VERY seriously. You'll know the house when you see dolls riding a Ferris Wheel, a beautiful sleigh and reindeer, birds and peacocks ensconsed in fairy tale scenes, and lights galore. This one often draws a crowd, so bring your camera!
Have a favorite neighborhood or special house for the Holiday Lights in Denver that I missed on this list? Drop a comment below, as we'd love to explore some new lights!
Want to learn more about the history of holiday lights in Denver? Check out this fun article from Denver Public Library about how we've decorated our town in the past!